A

Wedding Casino at your Reception is a truly exciting and unique form of entertainment for you and your guests.  We specialise in Wedding bookings, and being a family run Company we enjoy working at Weddings more than any other type of event.  Which is why we're good at it! Feel free to look at our reviews page.
Your Wedding Day will probably be the most important event that you will ever have to plan and organise!  If you're lucky, you might get practical or financial help from family and friends, but ultimately it's your day and you should be making the decisions.
It's your 'big day' and naturally you want it to run smoothly, starting from the moment you wake up, get dressed and arrive at the ceremony, right through to the last dance at your reception.  At your Wedding Reception, you'll also want your family and friends to be entertained and enjoy themselves.
So how do you entertain your guests?  This isn't easy, not everyone wants to dance all night, nor will you want all your guests congregated around the bar, especially if you're paying for it!  A band or entertainer is nice, but they seldom perform all night.
This is where Casino Hire can complete the day for you, the missing piece in the jigsaw, so to speak.  With a Wedding Casino, all of your guests can be entertained and are actually active in their own entertainment.  They can come and go as they please, so if they fancy a dance, a drink, or see someone they want to have a chat with, they can do so and return to the Casino Tables whenever they want.
A Wedding Fun Casino is definitely one of the greatest ice-breakers of all time!  With two sets of family and friends, and lots of guests who don't know each other, what better way to break the ice, than to do what we all like doing … playing games, being competitive and having a bit of 'banter'.  It really does work!
We know you'll have enough to worry about on the day, so when you hire a Moonlight Wedding Casino, it will include a Casino Manager.  So you can rest assured that the Casino will run smoothly and that your guests will be in safe hands.
All of our Gaming Staff are professional, having worked in various Casinos in Britain and around the world.  Although they are freelance, most of them only work for Moonlight Casinos.  They've been hand picked, not just because they're proficient on the Casino Tables, but also for their social skills.  They are the most important part of our company and they are the best in the business!
We also have some photos of previous events, in which you'll be able to see not only guests enjoying the Casino, but also the quality of our Casino Tables and Casino equipment.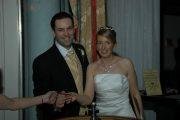 It's important for you to understand that when we quote for a booking, we are also officially offering our services to you. In order for us to be in a position to do that, we need to have a clear idea of what the booking will involve.
So once you've made your enquiry, we want to speak with you!  We want to discuss the details of your event, answer your questions, make suggestions (if asked), explain how we work and tell you our 'terms and conditions'.  We don't want to do that via email, as it can be a very slow and complicated process.  We would much prefer to talk over the telephone.
I know, some of you don't like talking on the phone, because of the fear of being pressured into buying something you don't want, and I understand that because we also receive calls like that all day long.  We don't work that way!  Although we would love you to book us for your event, we don't do 'hard selling'.  We're Entertainers, not Sales people.
You don't know who you are hiring and we don't know who we're sending our Staff to, so a quick chat on the phone can quickly disperse some of those fears.  This is then followed up with a letter from us, based around your details and including our quote.  In fact, we won't even take your booking until you've received our letter/quote.
So how does it work?  Very simply, the Casino operates for a set amount of time, usually about 2-3 hours (guide) and at the end of 'Gaming' the winner is the player who has won the most chips.
There is no maximum on the number of Casino Tables you can hire, but we suggest 1 Table for every 40-50 guests as a minimum.
We'll print up Fun Money notes for you and your guests, which can be exchanged for chips at the Casino Tables.  These notes are personalised as standard, so you'll let us know what you'd like printed on them, e.g. photo/s, special message, theme, etc.
At the end of the night, when the Casino closes, the notes will be returned to you and your guests so that you all have a souvenir of the evening.
The most popular and successful format for operating times is 7:30pm-11:00pm with a 30 min break to coincide with the buffet.  It gives you a full 3 hours 'play' time.  Our aim is to ensure that all of your guests get the chance to play, so although it gives our Staff a break to freshen up, more importantly, the break helps switch around the players at the Tables.  With the Casino split into 2 halves, it's much easier for us to achieve our aim.  However, this is only a suggestion, we're happy to fit in with whatever you have in mind.
Once you've decided to go ahead and book us, we'll confirm all the details on a contract, which we'll then send to you, along with a cover note explaining payment.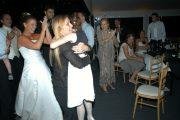 When the Casino Tables close, we'll find the top chip winner/s and you can award your prize/s.  We like to leave a gap of about 45 minutes between the end of the Casino and the end of the event.  It gives you time to award your prize/s and your guest's time to have a last drink/dance and to say goodnight properly.  It also gives us a chance to pack up and leave, without disturbing any of your guests on the way out.
So, if you're interested in hiring a Fun Casino for your Wedding entertainment, and would like to check availability and prices, please call us for a quick chat.  Alternatively you can send us some initial details via email or use our online enquiry page.  But remember we will want to speak with you, so please let us know your phone number and the best time/day to call you.  We promise it won't hurt!
At Moonlight Casinos we have the utmost confidence in the service we provide, so you have our guarantee that you and your guests will enjoy a fantastic night of entertainment.